STAMPED CONCRETE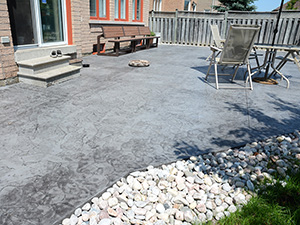 Stamped concrete, sometimes referred to as patterned or imprinted concrete, is concrete that is dyed, altered and shaped to resemble a number of other construction materials -- like brick, flagstone, tile and wood. You can do the same thing with asphalt, stone or precast pavers, but stamped concrete now has more patterns and color options. It also allows for customization at an affordable price. If you have a specific look in mind for a pathway or patio, there's a good chance stamped concrete can deliver it.
Stamped concrete involves pouring a slab of concrete and then impressing both patterns and textures onto the concrete before it is fully dry. The impressing is what gives the concrete the final design touch and color so you can call it your own. It is rare that any two stamped concrete projects will ever come out the same, which makes them all the more unique and special. Simply put, stamped concrete floors can be shaped, imprinted and textured to achieve any look imaginable.
The Benefits of Stamped Concrete
Versatility
Long life span
Easy maintenance: You will need to reseal your stamped concrete surface as necessary. The amount of moisture it comes into contact with, humidity levels and traffic will be factors in determining how often you'll need to re-seal it. Beside that, there is really no other major maintenance involved.
No need to pull weeds: Unlike tile, a stamped concrete floor is great at stopping weeds from growing. Weeds often grow in between tiles or cracks in other flooring types. There should not be any cracks in your stamped concrete, and therefore no weeds.
Curb appeal: A stamped concrete driveway is simply gorgeous. Driving up to a homewith a stamped concrete driveway is a beautiful experience.
Resale value: Stamped concrete projects, large or small, will increase the resale value of your home.
Endless choices: There are truly endless design choices when it comes to stamped concrete. You can choose the design, style, texture, color, pattern and more.
Stamped concrete floors can give you the look of a high-end patio, driveway, walkway, etc., without compromising on the quality or the appearance.
CALL US OR EMAIL US TODAY FOR A FREE QUOTATION ON YOUR FENCING, DECK, INTERLOCKING OR STAMPED CONCRETE NEEDS.