INTERLOCK PAVING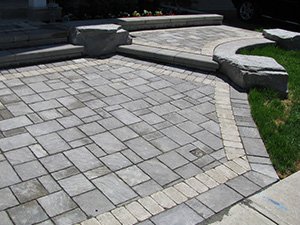 An interlocking concrete paver is a type of paver. This special type of paver, also known as a segmental paver, has emerged over the last couple of decades in the North America as a very popular alternative to brick, clay or concrete.
Stone paving has become a popular alternative to having vast areas of grass lawns. Stone pavers are fast becoming the architect's choice for commercial and residential projects. Because of their low maintenance appeal with minimal upkeep, they are the perfect solution.
Installing interlocking stone pavers in your outdoor living area will add charm, curb appeal and increase the value of your home. The benefits of interlocking paving stones include the vast selection of design options, durability, ease of repair, resistant to cracking, and environmental friendliness.
The Benefits of Interlock Paving
Interlocking stone pavers are a popular alternative or enhancement to landscaping.
Increase the value of your home.
Interlocking paving stones are ideal for walkway paving, driveway paving, patio paving and pool deck paving.
There are limitless patterns, colors, textures, shapes, sizes, and designs that can dramatically enhance the beauty your home.
Durable-will not crack, flake, chip, shrink or expand; they are flexible.
Oil, gas, paint spills or other permanent stain or damage would incur substantial costs to fix with other resurfacing products. With interlock, just remove the stone and replace with a new one.
Permeable pavers permit storm water to drain through the spaces between the paving blocks and into a subsurface detention area. From there, the water filters naturally into the ground and ultimately recharges the aquifer.
CALL US OR EMAIL US TODAY FOR A FREE QUOTATION ON YOUR FENCING, DECK, INTERLOCKING OR STAMPED CONCRETE NEEDS.